Last Modified: Monday, August 01, 2011


August 2011: In a few weeks, Transparency Records will be releasing Helios' latest album Galactic Octopi. Pre-orders are being accepted for both CD and gatefold double LP. Email transparency2011@yahoo.com to get it as soon as it is released. Read a review and interview with Helios in Psych Trail Mix #6.

August 2008: There's a Helios Creed/Chrome tour criss-crossing the US in September and October. Check out the dates and venues in the gigs area.

April 2008: A Helios Creed tribute album is in the works. If you'd like to participate or keep up to date on the progress, check out the Myspace page: www.myspace.com/helioscreedtributealbum

April 2007: It's tour time again. Just a few shows along the West Coast. Quick and dirty. Details here.

November 2006: The first single for H in quite a while, "Cowboy" has been released as a 7" with a live version of Chrome's Off the Line on the flipside. And yes, that is Fabienne Shine on those backing vocals!

July 2006: DBLV now available in VINYL! Sweet soft gooey vinyl! And Tour Shirts and Dual Forces DVD... Buy! Buy! Buy!

March 2006: Last Minute Tour Changes: a) New show added in Phoenix on March 21st. b) Date change for the Fort Collins Show, now on April 5th.

The West Side Tour is pretty much finalized. Stay tuned for East-Coast dates, probably next September.

February 2006: Helios' new album, Deep Blue Love Vacuum, is going to be released on the Noiseville label. Not only that, but a tour is in the works beginning with an appearance at the SxSW Festival in Austin, Texass.

Also, a tour archive has been started. We need your help to fill in the gaps. Fliers, photos, ticket stubs, even memories are helpful.

December 2005: Helios News #10 is out. And some last final tweeks to H's new album are being done at staticwhitesound.

July 2005: Helios News # 9 is out.

March 2005: The Probe from Dark Side of the Sun appears in/on the first issue of Psytrax. Psytrax is a new psych/space/stoner-rock oriented version of Inkeys, which began in 1983 as a "cassette magazine" featuring new electronic music. Now on CD, Psytrax is in the format of a radio show, featuring the latest in psychedelic, space-rock and stoner-rock. Visit the Psytrax website for more information.

February 2005: Helios News # 8 is ready.

Videos from the January 15th party and impromptu show are available here: http://www.cooldaddyrocks.com/party.htm

January 2005: Material for a new CD was recorded at The Bubble in Austin Texas on January 20th, 21st, and 25th. Helios was joined in the studio by Paul Della Pella (percussion), Jeff Pinkus (bass), Jerry Page (guitar), Fabienne Shine (vocals), and Blair Bovbjerg (theramin).

At the show at Room 710 on the 21st, they played two of the newly recorded songs. First was Sandbox, followed by a cover of Velvet Underground's All Tomorrow's Parties, both sung by the fabulous Fabienne. As an encore, Jeff sang Smokin' Weed with Helios Creed.

Also in the works is a DVD of the Room 710 show, with footage from the studio sessions and the party held the previous weekend.

December 2004: Read more about what is coming up in January in Helios Creed Newsletter #7.

Helios Audition and winter concert: Helios will be auditioning musicians for a spring tour. Auditions will be held the weekend of January 15th near Austin, Texas. This will be followed by a show on Friday January 21st at Room 710 in Austin. Read the original post.

An authorized "bootleg" is available from Toxic Tommy and Krazee Cyn. Recorded on the Dark Side tour, it's called Inferior Plastic Fingers.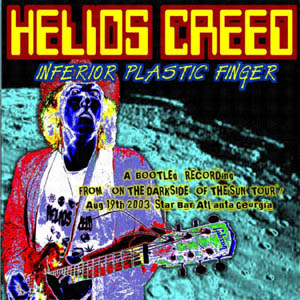 November 2004: Helios recommends EarthChangesTV.com for all news of the world. And hot off the wire is Helios Creed News #6
October 2004: The track Crusin' the K from Dark Side of the Sun is included on Magnet Magazine's Sampler CD Volume 35.
August 2004: Latest Helios Creed Newsletter #5.
Latest Releases: Available direct from staticwhitesound.