On the Dark Side
of the Sun
CD
Released: September 8th, 2003
Label: staticwhitesound
Cat. No. STATIC-2
~~~~~~~~~~~~~~~~~~~~~~~~~~~~~~
| | |
| --- | --- |
| | Space Sexy |
| | The Summit |
| | The Probe |
| | Sacrament |
| | Trailer Park Zombies |
| | Lady Deville |
| | Agoraphobia |
| | Another Heartbreak |
| | The Machine |
| | The Eagle |
| | Crusin' the K |
| | Evildevilmonster |
| | On the Dark Side of the Sun |
| | Sea of Glass |
CD-Extra video tracks:
| | |
| --- | --- |
| | Lactating Purple |
| | Late Bloomer |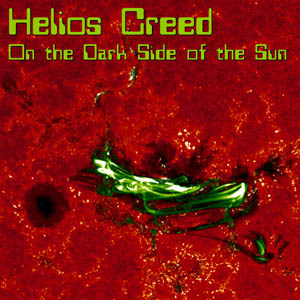 Although not properly credited in the album notes, Noel Harris was responsible for researching and selecting the source graphics used for the album art.
There are several alternate versions of this album that were produced to fill the void between the start of the tour and the replicated discs being received from the manufacturer. All were burned on black CD-Rs:
STATIC-2PR was an extremely limited edition of 50 numbered copies sold only on tour. It was provided in a slim jewel-case with full color cover art as an insert.
STATIC-2PRX was also sold on tour, in different packaging. Also numbered, less than 100 were produced. It was packaged in a black envelope with a sticker on the back.
STATIC-2PRO was a special "promotional copy" sent out for review and radio play. Packaged similar to the PRX version, but it was not numbered and included a one page insert with a press release of sorts and album credits. (The first few copies of the promo release had an edited version of Evildevilmonster due to pending licensing issues.)